Did you know that over 23% of serious workplace injury claims were caused by preventable slips? (Safe Work Australia, 2020).
Preventing workplace slips, trips and falls can save you from unnecessary days off work and the cost of treating those injuries.
One proactive step you can take to avoid such incidents is to ensure your shoes are slip-resistant.
Because of this, we have designed slip-resistant shoes that feature the Diamond Grip™ tread pattern. This fantastic range is specially designed to help you avoid the slip at work.
The Diamond Grip™ range is designed with ultimate comfort and style in mind, all within a stylish, sleek package.
We have a wide range of both Work and Casual style shoes with this unique outsole. Find the perfect fit for you today!
---
What Exactly Is "Diamond Grip"?
Diamond Grip™ is a unique tread pattern that has been developed to meet the highest Australian Safety Standards for slip resistance, giving you complete confidence on slippery surfaces around the workplace.
This outsole has been designed, tested and approved for an SRC slip-resistance rating and is perfect for hospitality, retail, healthcare and education workers.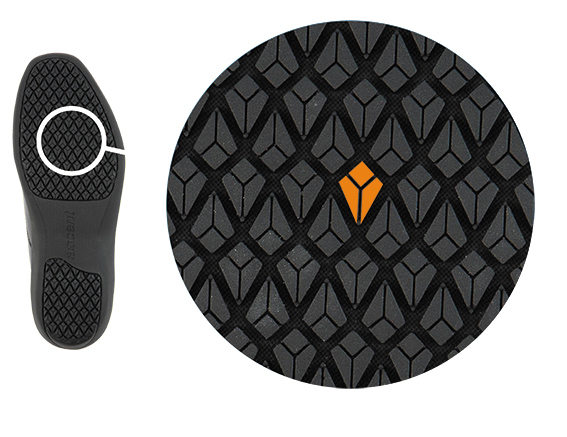 A close-up look at our unique Diamond Grip™ sole.
---
How It Works
Unique to Ascent, the Diamond Grip™ design features a deep tread pattern to easily penetrate oil and water and a trilateral grip to maximise surface contact.
So, how does this amazing outsole design work in order to keep you safe and secure?

TREAD