Comfort For Hard-Working Feet
In Australia almost
1 in 5 workplace injuries
involve feet or lower limbs. Our work shoes are developed specifically to provide support with anti-fatigue technology and revolutionary cushioning and are ideal for keeping you comfortable throughout your workday. The impressive array of stability and cushioning elements has made our range the first choice for hard workers everywhere.
Style & Support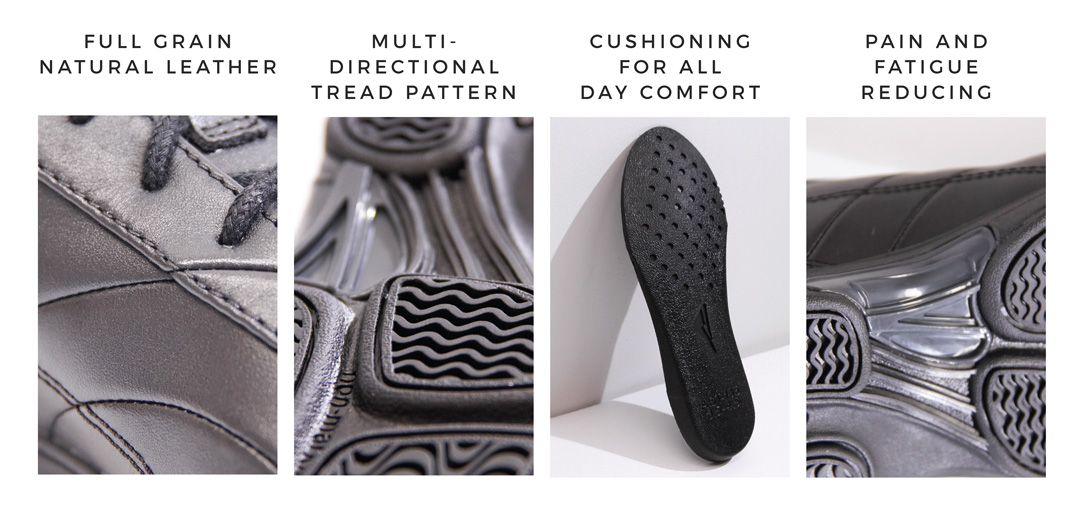 Designed to ensure comfort all day long, our work shoes are renowned for their durability and support for all industries, including hospitality, nurses and retail.
Our shoe technology is what truly makes us a step above the rest, and our work shoes include the following designs made to support you:
Contoured footbed
(raised at the heel, to assist with moving forward - reduces muscle fatigue)
Midfoot support
(stops excess movement underfoot, on rough and smooth surfaces)
Firm heel counter
(holds the ankle in place, aligning the body's biomechanics, taking pressure off knees, hips and lower back)
Raised heel, lowered forefoot
(also cut away under the toe, just like a running shoe, to provide all-day comfort)
Our Work Range
We have an extensive variety of leather work shoes, suitable to all workplace and uniform requirements. We guarantee you'll love the incredible comfort and support that our sleek work shoes provide.

SHOP NOW
Find Out More