Aug 27, 2020
Slip-Resistant Black Leather Work Shoes
Each year slips, trips, and falls result in thousands of preventable injuries. The most common ones are musculoskeletal injuries, cuts, bruises, fractures, and dislocations, but more serious injuries can also happen.

Over the 12 years between 2003–15, slips, trips or falls:
caused the death of 386 workers
led to 23% of serious claims
were caused by environmental factors* 56% of the time.
The Ascent Work range has an impressive array of stability and cushioning.
At Ascent, we started with a sporting shoe heritage and since turned this technology into categories of footwear that have not previously had this type of comfort and support. Ascent shoes cover School, Business, Walking, Work and Safety footwear. A gap in the market for preventable injury footwear saw the invention of a comfortable slip-resistant shoe. In 2014 Ascents Diamond Grip was rolled out in the form of a unique SRC Rated Diamond Grip on the soles of our comfortable and supportive shoes.

Above: Sola 3, Crest, Zest Safety, Contour
What is Diamond Grip?
Our SRC rated Diamond Grip range is set to the highest standard of slip resistance, giving you total confidence on slippery surfaces at work.

Investing in good shoes for work
Unfortunately, your favourite old pair of sneakers aren't up to the stress of the busy and hectic work situation. But modern support technology like midfoot stabilisers and shanks combined with soft moulded insoles to keep your feet steady and support arches through a full range of motion. Helping you along with your work efforts and ultimately doing your job better – working strong and smart. Feet that are well-aligned enhance great posture, and ease the possibility of stress and pain in other areas of the body, like the back and neck.
The work floor in kitchens, cafes, hospitals can be the catch-all for slips, trips and falls… and unfortunately, often so are your shoes. One of the shoe's main functions in the work environment is to protect your feet from mess and injury. You want an upper made from durable materials that are tough and easy to clean. And when sharp and heavy objects like knives come crashing to the floor, you'll be glad you chose footwear with reinforced toe protection.
Navigating through spills is no laughing matter. Liquid spills are like mini oil slicks – literally – and you want the soles of your shoes to have great no-slip grip no matter what you're walking on. Whether it's grease or a wet substance, a rubber outsole with strong tread will keep you safe and won't mark up the floor in the process.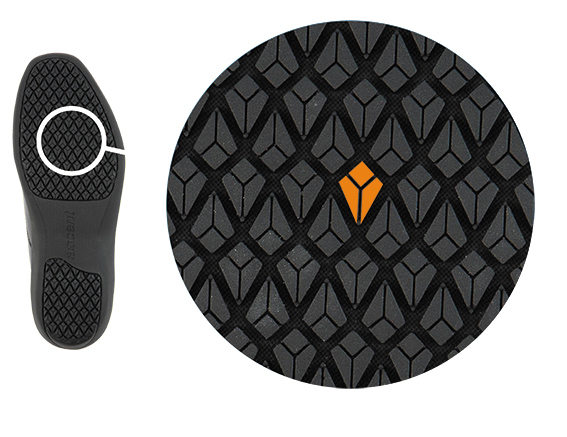 Above: Ascent's SRC Standard Diamond Grip Slip Resistant Soles ✓
SRC is the most stringent specification for safety footwear and slip resistance.
Work shoes for hospitality workers
Any profession that has you standing on your feet all day will generate heat in your feet, and along with that heat can come sweat and bacteria. Now if your work involves cafes or restaurants, add to that the blazing temperatures from hot stoves, coupled with the frantic pace in most kitchens, and you've got the ingredients for foot odor, and worse. That's why choosing a shoe made with breathable materials is so important. Modern textiles will keep your feet dry, with heat evenly distributed. An excellent fit, roomy through the toes, will keep air circulating and bacteria at bay.
Perhaps most importantly, you must tend to the comfort of your feet to have a great day on this kind of job. Standing for many hours on the hard tile you'll find in most kitchens can create sore, tight feet, and set the stage for injury. Intense cushioning at the heel and along the entire length of the foot will not just protect you from cramping and muscle strain, it will make your mood lighter and doing your job easier. A well-designed, supportive, amply cushioned shoe should actually feel amazing to stand in. This is a critical culinary advantage that will serve you well.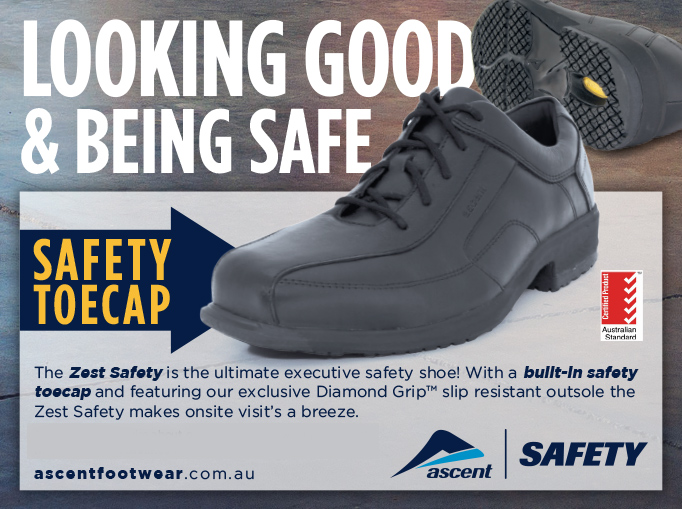 Above: Zest Safety AS/NZS 2210.3-2009 SB1 E-HRO-SRC ~ Comfort for hard working feet!
Avoid the slip!
SRC RATED
ANTI-SLIP
FOOTWEAR

Ascent's anti-slip design, Diamond Grip, is set to the highest Australian safety standards for slip-resistant footwear. Ascent's Duty range also has an impressive array of stability, cushioning, and cooling technologies. They set the benchmark for supportive, comfortable work shoes.
Ascent, Comfort for hard-working feet!


++++++++++++++++++++

WHERE CAN I BUY ASCENT FOOTWEAR?
All shoes are available for purchase online.

FIND OUT YOUR NEAREST STOCKIST.



JOIN ASCENT REWARDS PROGRAM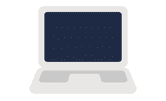 FOLLOW US ON FACEBOOK or INSTAGRAM