Oct 15, 2020
One of our best shoe recommendations as the mercury rises is our Groove thong. More than just a thong the Groove is the perfect after work or post sports shoe solution that's a step above the 'good ol'Aussie' thong.
Let's break it down:


Expertly designed dual-density midsole and dimensions shape the Groove.

Soft EVA top layer providing instant relief and cushioning that will mold to the shape of your feet over time.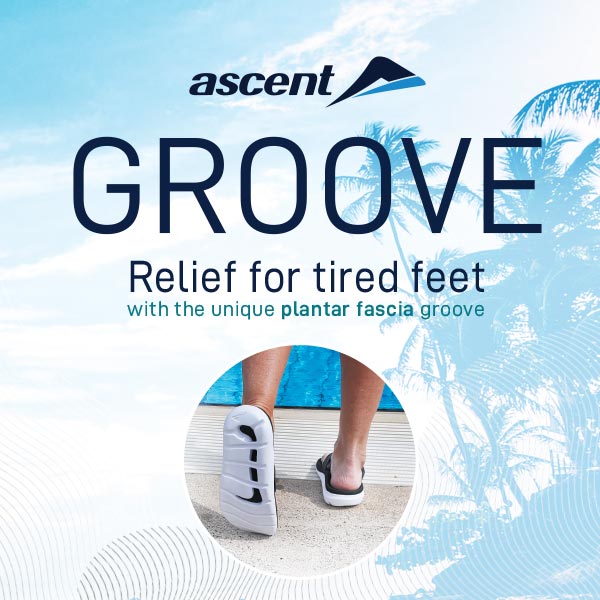 Designed with recovery in mind
Designed with recovery in mind the Groove is the ultimate footwear option after kicking off those heels, runners, or enclosed footwear. As feet fatigue, the arch tends to flatten, the ankle rolls in causing swelling and pain. Wearing open-air footwear that elevates the heel and takes the pressure off your feet will help relieve any preexisting plantar fascia, heel related, or arch pain issues. The Groove is designed as an orthotic thong meaning it's lightweight, breathable, and aids in taking the pressure of Achilles and plantar fascia.
The second bottom layer is a firmer base. It's the combination of the two layers giving you a sturdy foundation not seen in the everyday flip-flop. You'll also notice thongs are flat whereas the Groove has an elevated heel. This lift allows the muscles and tendons in the calf complex to relax more easing tension and strain. The visible arch support in the Groove prevents the foot from rolling in. This combined with the unique plantar fascia groove forming the sole equals superior pressure relief footwear, the contour of the Groove reduces pressure underneath the foot.
The Groove is a footwear solution for sports recovery, injury recovery, feet stressed from a long day standing at work.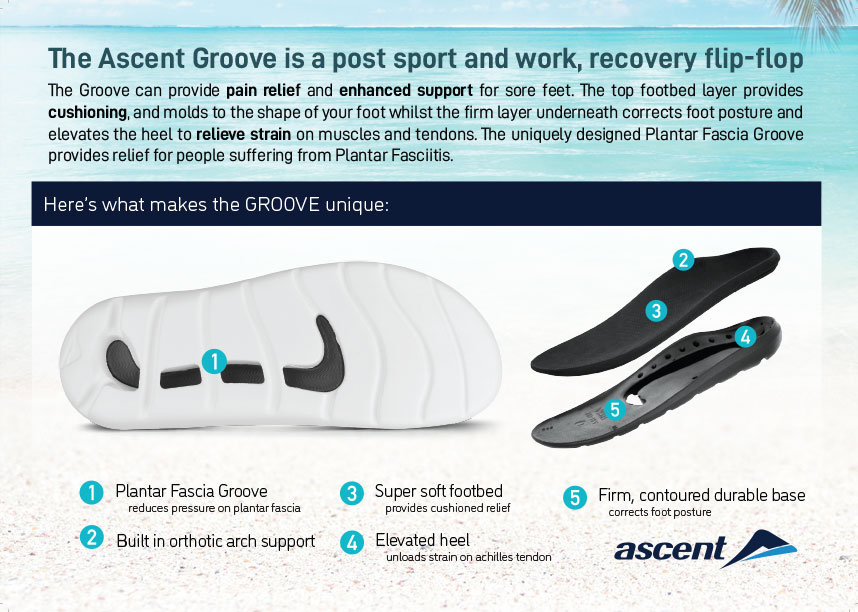 The Groove Collection
The Groove now comes as a slider and the collection colour range includes Groove Tan, navy, black, sport for men and white, red, caramel, silver stripe, sport, and black for ladies. Sizes for women range from US 6 to 11, and US 7 to 14 for men.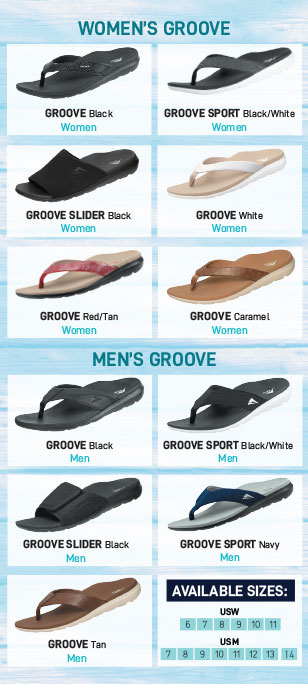 The benefits of the Groove:
Convenience to simply slip on a supportive thong for hard working and active feet.

A cooler alternative to a full-coverage shoe, whereby feet are not compromised.
In general, it is always a great idea to refresh your footwear at the beginning of a new training regime, the start of a weather season, or when entering into a new work environment. If you love that feeling of getting out of enclosed shoes after a long run or day at work on your feet, forget flat and pamper feet with the perfect footwear addition to your post sport recovery or work attire.

Ascent's shoes offer comfort and support through your everyday life. Shop our categories:
++++++++++++++++++++

WHERE CAN I BUY ASCENT FOOTWEAR?
All shoes are available for purchase online.

FIND OUT YOUR NEAREST STOCKIST.



JOIN ASCENT REWARDS PROGRAM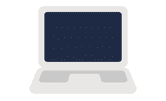 FOLLOW US ON FACEBOOK or INSTAGRAM
Jan 15, 2021
Back To School Checklist
Jan 07, 2021
Importance Of Forefoot Shape In School Shoes
Jan 05, 2021
DIY Stationary Organiser
Dec 23, 2020
Best School Shoes For Back To School
Dec 18, 2020
What Makes A Good Quality School Shoe?
Nov 17, 2020
Why Podiatrists Love the Groove Sandals
Oct 15, 2020
Post Sport Footwear for Recovery and Pain Relief
Sep 30, 2020
Bunions
Aug 27, 2020
The Best Shoes for Working
Aug 11, 2020
Plantar Fasciitis