May 20, 2020
The modern workboot requires everything a traditional shoe provides, but at industrial strength: protection, support, flexibility, durability, grip, and style. It takes a pair of seriously tough feet to handle work environments ranging from construction sites to mining operations to mountaintops. Your workboot needs to be able to tackle every setting with power, giving you a sense of security to focus on doing your job.
Don't be fooled by the rugged exterior – the workboot of today is a triumph of engineering and design, tricked out in every conceivable way to guarantee safety and strength. Once upon a time all a workboot needed was a steel toe. But just as that famous toe protection has moved into new and powerful non-metal forms, workboots now incorporate cutting edge technology into every step.

Yes, some things are timeless, like a full leather upper that wears beautifully for years to come. But inside you'll now find thermoplastic polyurethane heel counters molded to the shape of the foot for maximum support. Crib midfoot stabilisers provide multi-directional arch support. Polyurethane midsoles ward off static as well as provide excellent shock absorption, while high performance, anti-fungal cushioning makes those long hours on your feet a lot easier to stand. And breathable high-tech fabrics keep those feet nice and dry. It's quite a package.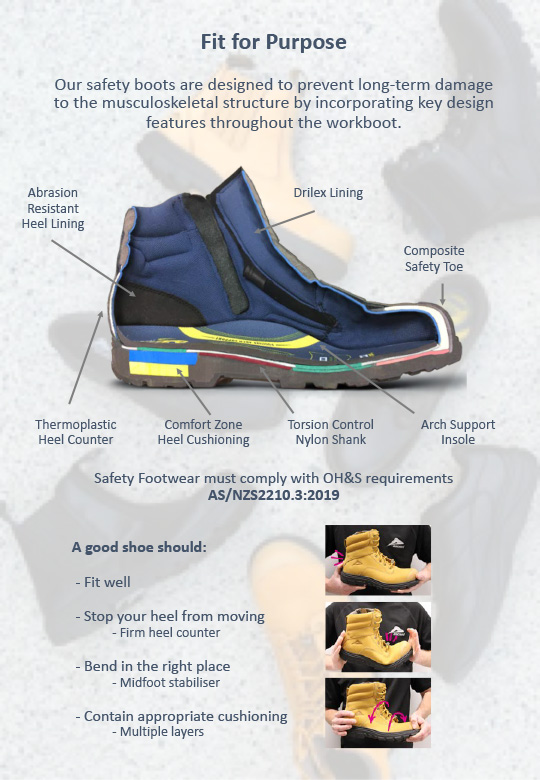 Ascent has put together a brilliant line of workboots that hit all these marks and more. Check out the long list of innovations and see how far the workboot has evolved. The lightweight Oxide has a mindblowing level of grip, with a 300 degree Celcius nitrile rubber outsole. There aren't too many places on Earth hotter than that. And they're steel-free, so you can easily get through all the airports between here and those hot places.
Sometimes workboots have to act as shields. In boots like the Gamma, anti-ballistic technology does what the name implies. Anything flying at this boot from air or land won't be getting to know you. Not nails, sharp objects… nothing's getting through this boot, no matter how tough the environment.
Heroic jobs deserve heroic boots. First responders are often in high intensity, unpredictable environments. Their footwear not only protects them from the elements, like water, mud, or even electrical current, but also allows workers to fearlessly venture further, higher, and faster than they'd be able to go otherwise.
Ascent's Safety Boots are designed with these things in mind. They're work boots you can run in. Take the Alpha 2 ~ delivers comfort and safety for use in multiple industries. It includes a and heavy-duty zip for convenience. Made with durable leather and featuring our exclusive Ascent Comfort Zone, shock-absorbing outsole. Designed for an athletic and supportive fit to provide outstanding comfort and arch support during a long day's work.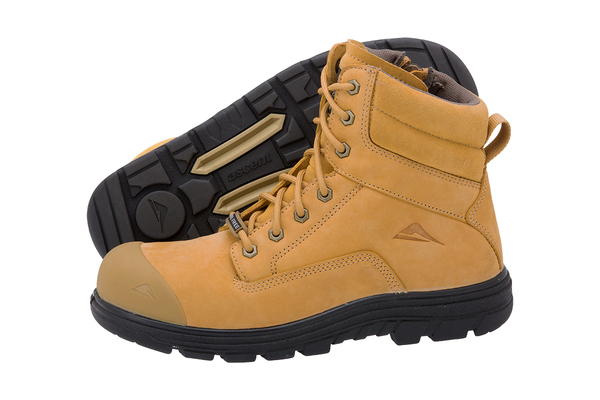 Above: Alpha 2; RRP$219.99. Available for purchase online in Black and Wheat.
The Sigma 2 looks like a workboot on the outside but feels like a state-of-the-art running shoe, with a fantastic suite of cushion, support, stability, and durability. Try them on and you'll see that these aren't workboots they're warriors. Whether you are working on a building site, pouring concrete or out in the paddock the Sigma 2 offers and with the benefits of a slip-on boot. The protection of a composite toe cap and leather fingers, the Sigma 2 breaks new ground in slip-on safety boots. Airport Friendly.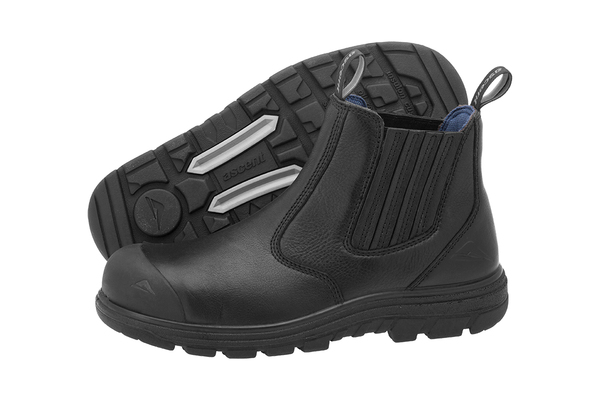 Above: Sigma 2; RRP$199.99. Available for purchase online in Black and Wheat.
Ascent's Ladies Workboot ~ Alpha 2, Narrow
A safety boot that is truly for the ladies. Light, stable, and reliable, the Alpha 2 ladies' safety boot is designed for an athletic and supportive fit. Featuring signature white stitching and custom purple accents. These airport-friendly tough boots are ready to take on any terrain you can throw under them.
AS/NZS 2210.3-2009 SB1 E-HI-CI-HRO-SRA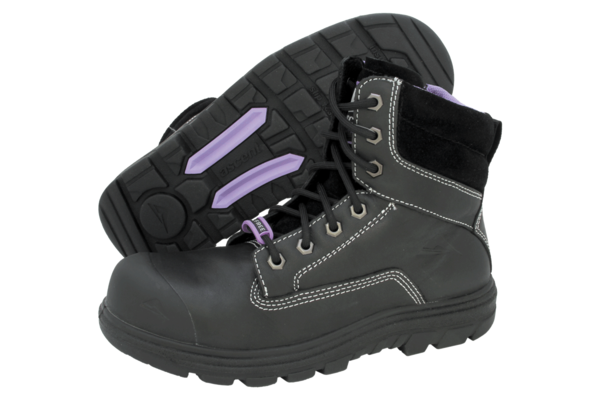 Above: Alpha 2 Narrow; RRP$219.99. Available for purchase online in Black/Purple.
Our Safety Workboot Range is available for purchase online.
++++++++++++++++++++

WHERE CAN I BUY ASCENT FOOTWEAR?
All shoes are available for purchase online.

FIND OUT YOUR NEAREST STOCKIST.



JOIN ASCENT REWARDS PROGRAM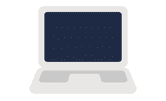 FOLLOW US ON FACEBOOK or INSTAGRAM